Spring 1995 (3.1)
Gaiyur Yunus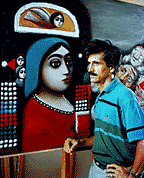 For me both as an artist and as an individual, the present day is much, much better than before. During the Soviet period, my works were often not allowed to be exhibited. Simply, I did not follow the style of social realism. So I remained relatively unknown.

The rights of many individual artists were trampled. Only those who served the political ideology had the possibility of gaining the title of "People's Artist of Azerbaijan" or the higher recognition as "People's Artist of the Soviet Union".

An artist has to be free to create works which correspond to his own thinking and his own creative nature. Every artist should be evaluated according to the contribution he makes, and the works he creates-not because he serves a certain ideology. The power of an artist is in his originality and creativity.

What does an artist need to work? He needs a studio. He needs spaciousness and he needs materials with which to work. He doesn't create these things by himself. It is a process that develops from interaction between the artist and others. There are experts and critics in the sphere of art, just as in other fields, who evaluate artists' works and organize them publicly. Galleries, museums, and associations connected with culture must interact with the artist. There are always people in society who love and appreciate art. They are the ones who create conditions in which artists can work.




One of the characteristics of my paintings is that I use Arabic. These days I'm using it somewhat more moderately than before. But it does seem to me that the emptiness of the background requires an inscription of "Bismi Allah" ("in the name of Allah"), a phrase taken from the Quran. This is connected with my faith in Allah. Each of my works contains the name of Allah. I use Arabic script as it corresponds so well to the genre of painting, far better than Cyrillic. And I always sign my paintings "Gaiyur" in Arabic. Of course, Arabic has a historical base as it was Azerbaijan's official alphabet until the late 1920s. And it is the script of our famous poets in the past, Fizuli and Nizami.

Art Today
Today, it is possible for us to work freely and to present our paintings openly at exhibitions. But we need more than that, especially during these critical economical times when our country is under such pressure with the war and refugees. People have to help art develop. But nobody really helps. There are many political parties, many banks, and many associations. Most of them include special by-laws and articles about art. But, in truth, these organizations aren't actively supporting the arts and artists.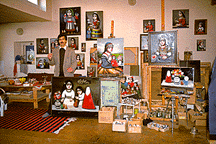 I'm 47 years old and I've completed more than 200 works. In spite of such an accomplishment, there are times when I don't have enough materials with which to work. Paints, brushes, canvases-they're so difficult to get these days. You see how I'm using much smaller canvases now than even a year ago.

Left: Gaiyur Yunus in his studio in Amirjan, a suburb of Baku. December 1994. Canvases are lighter, brighter and smaller these days.

What we need is a window to the world. We must be presented to the world. We must become known to a larger international audience.

There are many talented artists in Azerbaijan and, at least, ten to fifteen of them should be made known to the world.

Gaiyur Yunus, born in Baku in 1948, is often associated by his stylized portraits and use of smooth lines and brilliant colors, especially red, white, and turquoise against black backgrounds. His work, "Refugee", was featured on the back cover of Azerbaijan International (Winter 1994, Vol. 2:1). His studio is in the suburb of Amirjan, a suburb of Baku. Telephone (994-12) 203-833.

Translation assistance by Jamila Pashayeva.


From Azerbaijan International (3.1) Spring 1995.
© Azerbaijan International 1995. All rights reserved.